VISIT US |
MEET OUR STAFF
These are just a few of the many people who are a part of the Old House Team. They spend an incredible amount of time and energy helping to ensure that all who visit have the best possible experience from the products they taste to the people they meet.
We understand that our patrons visit not only because of the products we offer, but because of the people they meet while they are here. It could be Terry behind the winery bar that makes you smile, Alan in the Distillery who always has a story to share, Jackie in the Brewery who just makes everyone comfortable with her easy going demeanor, or the Grandmas, Kathleen and Rhea, who just make everyone feel like family from their very first visit. Culpeper is a special community and we are lucky to able to operate in area where people are so welcoming! Odds are when you visit, you are sure to meet someone new who will make your day!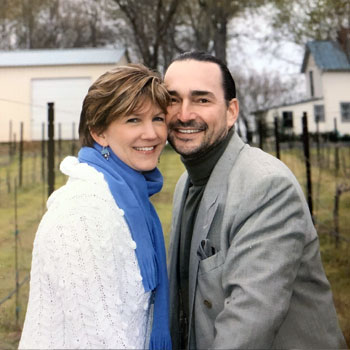 Patrick and Allyson Kearney
Patrick and Allyson went out on a limb and purchased a 75-acre alfalfa hay farm in Culpeper in 1998. Where many viewed the abandoned 1890s Farm House which at the time was valued at $0 as destined for demolition, Patrick and Allyson saw a future.
Patrick's primary occupation is Architectural Millwork. He started his company in 1986 and has been building and installing museum exhibits up and down the east coast ever since. His projects and clients include National Archives, The Smithsonian, The ACC Hall of Champions, VMI, The Cradle of Christianity, Bacardi Corporation, and many others. He continues to get on the road at 4am every morning to start on the next exhibit. His next project is his passion and it is what keeps him going and excited to start each and every day. Saving the dilapidated farm house became the next project!
Allyson has a degree in Physical Therapy from George Mason University and she worked at a private practice before taking over the accounting and administrative duties at Kearney and Associates for many years. While working, she also raised their three children, Brittany, Ryan, and Liam. Currently, Allyson manages day to day operations at Old House including staffing of the Winery, Brewery, and Distillery as well as coordinating weddings and events. She can also be found on Mondays behind the Brick Oven Pizza Bar kneading and flipping doughs!
It is only when looking back at photographs of what the abandoned farm used to look like back in the late 1990s that it really hits home with Patrick and Allyson about how far they have taken this opportunity. What began with a fleeting idea to plant a few vines in the ground at a time when Virginia Wineries were just emerging has since morphed into an incredible dream and they are thankful to be able to live in it each and every day.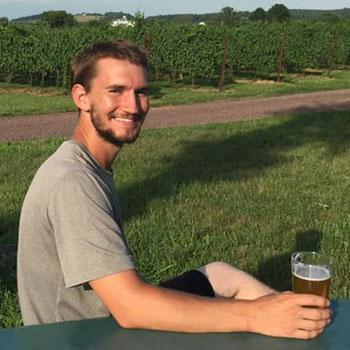 Ryan Kearney
General Manager
Ryan returned to Old House Vineyards in a full-time capacity in 2014. The son of Patrick and Allyson Kearney, Ryan grew up on the farm where he had the unique opportunity to watch and participate in an ever-evolving family enterprise. However, as with many who grow up in a family business, Ryan was eager to get his feet wet and venture out on his own. After graduating from the University of Virginia, Ryan joined an Information Solutions Firm as a Security Analyst and Program Manager working in D.C. in support of the Coast Guard. However, Ryan quickly became discouraged by the amount of red tape (not to mention traffic) which in his view inhibited his ability to get tasks accomplished.
While Ryan was in D.C., he was also working on the licensing for Old House's new Distillery Project. When the time came for someone to come on board full time to help get the distillery on its feet, Ryan felt it was a perfect time to transition to something new. However, what originally was planned to be a temporary stay became permanent as Ryan discovered his true passion and motivation – helping to grow a truly innovative family legacy while simultaneously being able to work and interact with a whole spectrum of individuals who share his various interests.
Currently, Ryan oversees production at Old House and strives to ensure the Vineyard, Winery, Distillery, and Brewery are all working in conjunction with each other while creating the best possible environment for all who visit.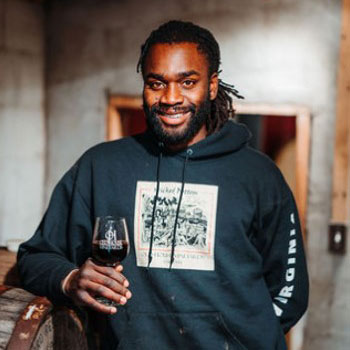 Christopher Harris
Head Winemaker
Chris began as the assistant winemaker at Old House Vineyards in 2014 and took over the Head Winemaker role in January 2017.
Chris studied viticulture and enology at Piedmont Community College in Charlottesville and has had the opportunity to work with numerous award-winning winemakers over his 12-year career.
Chris grew up in Jamaica and moved to Sperryville, Virginia with his father when he was a child. An avid sports enthusiast, Chris also loves travel, eating long and involved meals with friends and family, and finding just the right wine, beer, or spirit to pair with those meals. Chris lives in Culpeper with his faithful and enthusiastic Yorkie, Marley, and his favorite wine varietal is Cabernet Sauvignon.
Chris started his winemaking career in 2008 at Gadino Cellars in Washington, Virginia, where he worked as the assistant vineyard manager. He was also the assistant winemaker and vineyard manager at the former Sugar Leaf Winery in North Garden, Virginia (now Wisdom Oak Winery) for two years.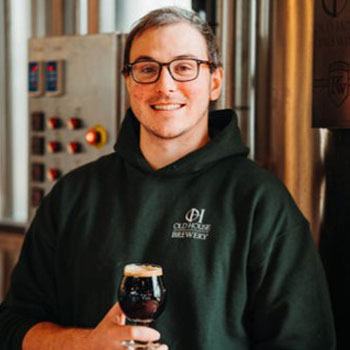 James Hanley
Head Brewer
James grew up in upstate New York and moved to Culpeper to brew for Old House Vineyards in June 2018. Originally an engineering student and professional, James found office work and data entry stating to dampen his creative side and perked himself up by brewing on the weekends.
Having found a new passion, James went to school at a local college in order to pursue a degree in brewing. During that time, he also interned at Rare Form Brewing in Troy, NY which solidified his love for the craft industry. When the opportunity to brew somewhere outside his comfort zone, and in a new place, James took the dive. He is now happily brewing his days away at Old House, where my love for traditionally brewed beer can be mixed with the experimental spirit of barrel aging, fruit, and the love of new possibilities.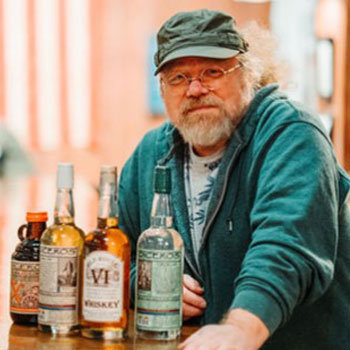 Keith Ballurio
Head Distiller
Keith is our modern-day Renaissance Man. He has a degree in computer technology and an extensive career in software development, leading teams in large scale systems engineering, while ascending to CIO for an IT firm in Washington DC. Keith has studied Chemistry, Physics, and Mathematics. He is published in software design and database systems, and has a patent in database hierarchical systems technology.
Keith started his life as a musician playing guitar for numerous bands, even recording several albums. His studies, combined with his natural energy, have led Keith to choose a life of startups which utilize both his technical skills and his creative approach to problem solving.
Keith's ability to work in both the technical and artistic realms uniquely position him to excel in the role of a distiller, using his knowledge base to create, design, and market his spirited creations. Keith's "can do/will do" attitude with regard to new challenges has led to a proven track record of success.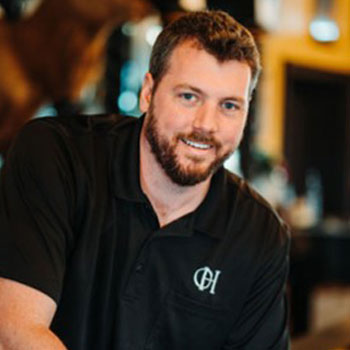 James Rutledge
Brewery Manager
James was born in upstate New York and after graduating high school he moved to Queens, New York where he attended Adelphi University in Long Island. He graduated in 2006 with a BFA and continued to live in New York while working in the tri-state area. In 2010 James relocated to Richmond, VA to escape the city life he had outgrown.
While searching for a venue for his wedding, James was introduced to Old house via a friend. After one visit James and his now wife, Christine, knew Old House was special. James and Christine were married at Old House on the Island in 2013.
Over the years, James became close with the Kearney family helping out as needed with high volume winery events; James became a regular face around the vineyard once the construction of the brewery – doing everything from digging trenches to putting up walls.
With the brewery opening at hand, Old house was in need of an individual to help manage the ever-growing estate and its multifaceted requirements. It was not a difficult decision for James to leave his high-level position in the airlines to pursue his passion of craft wine, beer and spirits.
Old House Vineyards  |  18351 Corkys Lane, Culpeper, VA 22701  |  (p) 540-423-1032  |  (f) 540-423-1320  |  info@oldhousevineyards.com