The history behind the house is fascinating…do the wine tasting and hear all about it. Wines are great to boot! The Distillery is tasty and visually AWESOME in a WWII theme with AUTHENTIC memorabilia as well as military gear.
Our Spirits
A quick look at how Old House Spirits differ from many of our peers. From the perspective of quality, we typically look at the unique properties that makes a spirit  identifiable. We then seek to improve upon those elements thereby establishing a spirit that is specific, while maintaining the integrity of the spirit itself. We don't take shortcuts such as adding flavor essences, synthetic flavor enhancers, coloring or other such shortcuts. When you taste an Old House product you are enjoying a painstakingly created beverage that has been created for your enjoyment. Please note: Our Spirits are Small Batch and are continually changing and evolving. 
Diceros Barrel Aged Rum
Diceros Barrel Aged Rum is our light silver rum aged in American Oak Barrels and bottled at 92 proof.  The flavor profile has a delicate nose of apples with a rich mouth feel that reflects caramel and vanilla and falls off the tongue gradually. This is one tasty rum!
Dude Spirit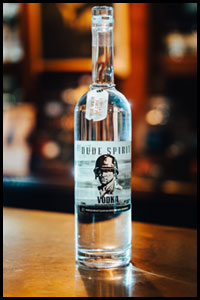 Inspired by the character, integrity, and all around "badassness" of our armed forces. Old House is proud to present Dude Spirit in honor of all those who have served and welcomes everyone to come visit our World War II Museum and Distillery Tasting Room. We recommend this Vodka neat or in your favorite cocktail. For at Old House, Grapes are allowed to achieve their full potential. Each bottle is a spirit with a purpose and purposely made for you!
Agave Nectar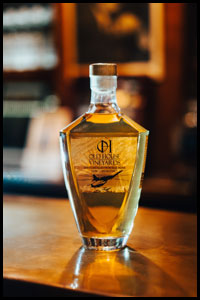 Categorized as a Distilled Spirit Specialty, our Agave Based Spirit is a Virginia version of a Tequila. Using a method of cold fermentation to preserve the natural flavors of the agave nectar, each small batch we craft is carefully nurtured to ensure a well rounded spirit. Double Distilled in a traditional copper alembic, the final result is a spirit of exceptional flavor with a light oaky finish.
Old House Whiskey VI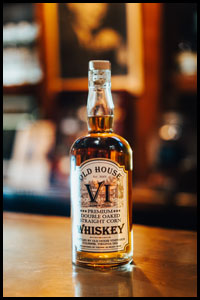 Old House Whiskey VI is our take on a traditional corn whiskey with a few twists. We age our 100% premium whiskey in American Oak and when time dictates we take this aged whiskey and separate it into a number of additional barrels (such as port barrels) to add complexity. We call this process Double Oaking. Finally, we then blend this elixir and proof it to a perfect 92. This spirit has notes of caramel, leather, vanilla and a host of floral notes giving a light and fruity finish. We believe this is an exceptional whiskey to which even a bourbon purist will take note.
Grog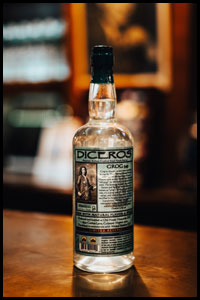 Grog is based on Vice Admiral Vernon's order 349. To combat Scurvy, Vernon ordered that the daily ration of rum (a tot) be blended with citrus, such as limes, lemons and oranges. With this in mind, our Grog is a tribute to Admiral Vernon. We took the original recipe's guidelines and came up with Grog. If you like lemonade, then you'll love our Grog 349, notes of lemon, lime and orange just right for your summer cocktails.
Bumbo 1758
Bumbo 1758 harkens back to a time when sailors and pirates used spices to improve the flavor of their of rum. This tradition continued, and was used by George Washington when he ran for a seat in the House Of Burgess in 1758 using cocktails to embolden his voting public, at that time called… "swilling the planters with Bumbo." This wonderful spiced rum took us over two years to develop. Made with all natural nutmeg and true cinnamon from Ceylon and a bit of sugar. The blending of these spices join create an exceptional profile and a taste unique to both flavor elements – what we believe a spiced rum should be.
Black X Coffee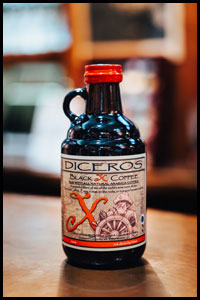 Black X Coffee is a masterful blending of two of the world's most iconic drinks – Rum and Coffee. Enjoy it neat, on the rocks, or with your favorite cocktails. A wickedly wonderful creation blending the savory flavors unique to coffee joined with the complexities of rum resulting in a truly unique product with a kick!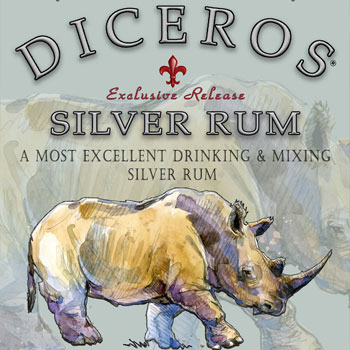 What is Diceros?
Old House's Diceros label is the creation of our Distiller, Keith Ballurio. The label was created to allow Keith to explore new ideas and create unique products while simultaneously support a cause for which he is passionate – Saving Rhinos. Keith's love for these animals began when he was living in London where he became friends with a veterinarian for exotic animals. Spending time with him, Keith learned the plight of these magnificent animals which left him a desire to help. Therefore, a portion of every Diceros bottle goes to support the Rhinos and the hopes of a brighter future for these bright animals.
Old House Vineyards  |  18351 Corkys Lane, Culpeper, VA 22701  |  (p) 540-423-1032  |  (f) 540-423-1320  |  info@oldhousevineyards.com