Hello! Let me introduce myself. My name is Ryan and I am part of the family that owns and operates Old House Vineyards along with my parents, Patrick and Allyson, my siblings, Brittany and Liam, and, of course, Grandma Kathleen.

For those who are long time patrons, we sincerely thank you! For those who have not yet had the chance to visit, we look forward to your first Old House experience. The past few years have seen significant changes and we are as excited as ever for what the future holds. One of our many goals for 2020 is to keep everyone appraised of what we have planned as well as to give individuals the opportunity to peer behind the curtain of Virginia's only winery, brewery, and distillery operation.
The story of Old House Vineyards began on a rainy Mother's Day in 1998 when dad and mom decided to take a trip to Culpeper to look at piece of property which had appeared in the paper for sale by owner.
Side note: Dad's day job and primary occupation is architectural millwork and the fabrication of museum exhibits. He had helped build the original Culpeper History Museum in the mid-1990s and was therefore familiar with the area.
Abandoned for ten years, my parents decided to make an offer on the overgrown Alfalfa Hay farm in what my mom would later reference as one of Dad's "deals too good to pass on." The deal was signed on the back of a napkin; a napkin dad still has today. The initial idea for the property was for it to function simply as a place for the guys at dad's mill-working shop in Northern Virginia to come down on the weekends to hunt, fish, and relax. However, no one ever made the trek down I-66, and no one in our family hunts or fishes, and so Plan B…
And so, the story goes: With the help of family and friends, we decided to plant a few vines, not quite sure what the outcome would be or fully understanding the amount of labor, or fun, it would entail. Almost 22 years, 30 acres of vines, a winery, a distillery, and brewery later, we are happy to say we are still finding that out.
Thank you to everyone who has helped and supported us along the way and to everyone who has shared a glass of wine (or two) with us over the years. We look forward to what the next twenty-two years will bring!
The Kearney Family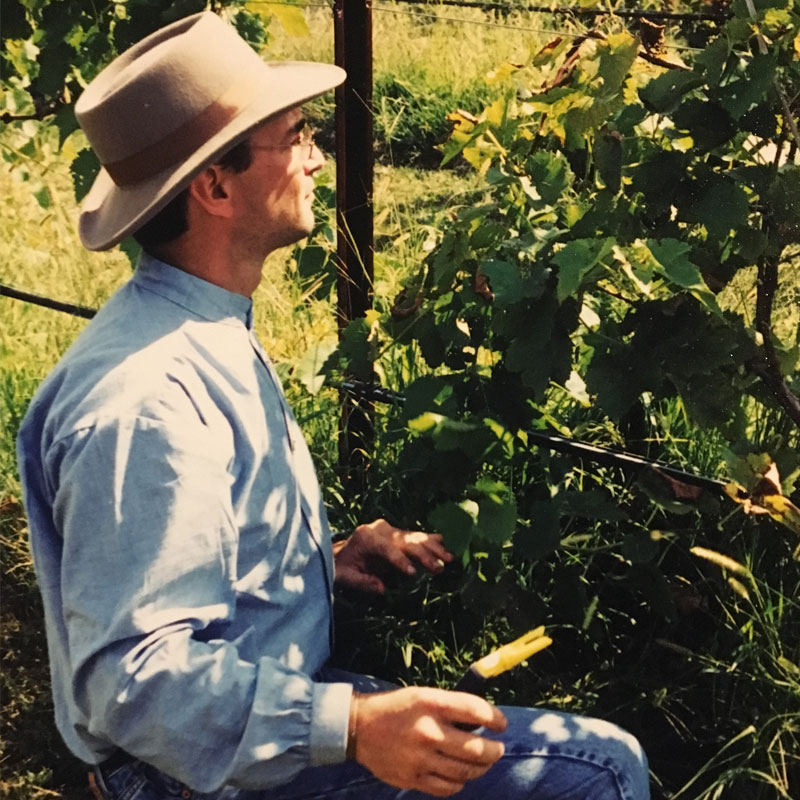 Timeline
1998 – The Kearney Family purchased a 75-acre abandoned alfalfa hay farm in Culpeper, Va.
1999 – First Vines were Planted (Merlot)
2001 – First Wine Vintage was Bottled (Vidal Blanc)
2002 – Tasting Room opened in the original 1890s Farm House
2003-2007 – Planted 20 acres of Vidal Blanc, Cabernet Franc, Chardonnay, and Chambourcin
2008 – First Wedding Occurs at Old House
2009-2013 – Planted an additional 10 acres of Petit Verdot, Viognier, Cabernet Franc, and Tannat
2014 – Received Distillery Federal and State license to start producing Spirits
2015 – Distillery Tasting Room Opened on Father's Day (1st Virginia Winery and Distillery)
2016 – The Farm expands to 165 acres
2017 – Construction Begins on the Brewery
2018 – Brewery Taproom Opens in December (1st Virginia Trifecta); Planted 30 acres of Barley
2020 – Kearney's Irish Pub opens
2022 – Trifecta Gold Winners: Virginia's Governor's Cup Gold for 2019 Bacchanalia & 2021 Vidal Blanc wines, Double Gold in the San Francisco World Spirit Competition for Whiskey VI, and Gold in the Virginia Brewer's Guild for Irish Red beer.  
Click images for larger view.
Old House Vineyards  |  18351 Corkys Lane, Culpeper, VA 22701  |  (p) 540-423-1032  |  (f) 540-423-1320  |  info@oldhousevineyards.com